Its name—the Graphic Communications Scholarship, Award, and Career Advancement Foundation, Inc.—may be a mouthful, but this education-promoting industry group has a heart even bigger than its moniker. The breadth of its generosity was on full display last night as GCSF presented a record number of scholarship grants to students training for careers in all areas of graphic communications.
The ceremony, hosted by Hearst Magazines at its atrium and theatre in Manhattan, also featured the presentation of GCSF's Champion of Education Award to a metro area print company president described as someone "who never stops in his pursuit of helping the kids."
Last night's "kids" were 37 high school seniors and college students who collected $47,000 in scholarship grants from a network of private funds coordinated by GCSF, a 501(c)3 not-for-profit corporation started by a small group of industry professionals in 2002.
Initially meeting in borrowed space and keeping handwritten records, the founders raised and distributed $5,000 worth of grants in the first year. They also consolidated a number of existing scholarship funds that were not being actively managed.
Since then, the program has awarded more than $360,000 to 95 students enrolled in or about to enter graphics studies degree programs at schools including New York University, Rhode Island School of Design, The School of the Art Institute of Chicago, Parsons School of Design, University of Michigan, Pratt Institute, New York City College of Technology, Fashion Institute of Technology, University of Pennsylvania, and Rochester Institute of Technology.
The most important thing to know about the grants, said David Luke, GCSF president and last night's MC, is that 100% of all money donated goes directly to the recipients and their schools. GCSF, operated exclusively by volunteers, has no formal management structure and does its work entirely without overhead.
GCSF accepts scholarship applications from metro area residents pursuing studies in graphic communications at any college or university offering such a program. To qualify for grants, students must submit portfolios, academic transcripts, and letters of recommendation to a GCSF scholarship selection committee. More than a third of last night's recipients were in their second, third, or fourth years of receiving assistance from GCSF.
Two of the students were the beneficiaries of something special: grants from cash raised by a former GCSF recipient and a friend who organized their own scholarship fund, "Big Apple Big Hearts," as a way to assist those whose lives and career plans were disrupted by superstorm Sandy last year. Another of the evening's highlights was the unveiling of the results of a student design competition sponsored by Trend Offset Printing (see related posts below).
At the annual award ceremonies, the stipends traditionally are supplemented by gifts from companies and organizations that support GSCF. Last night, the students went home with certificates entitling them to receive free copies of QuarkXPress, color specification tools from Pantone, and one-year memberships in IDEAlliance.
GCSF also announced the launch of a mentorship program designed to offer scholarship recipients practical career guidance from freshman through senior year. Those taking part will gain real-life experience and exposure to varied disciplines within the graphic communications industry, said Jerry Mandelbaum, GCSF treasurer.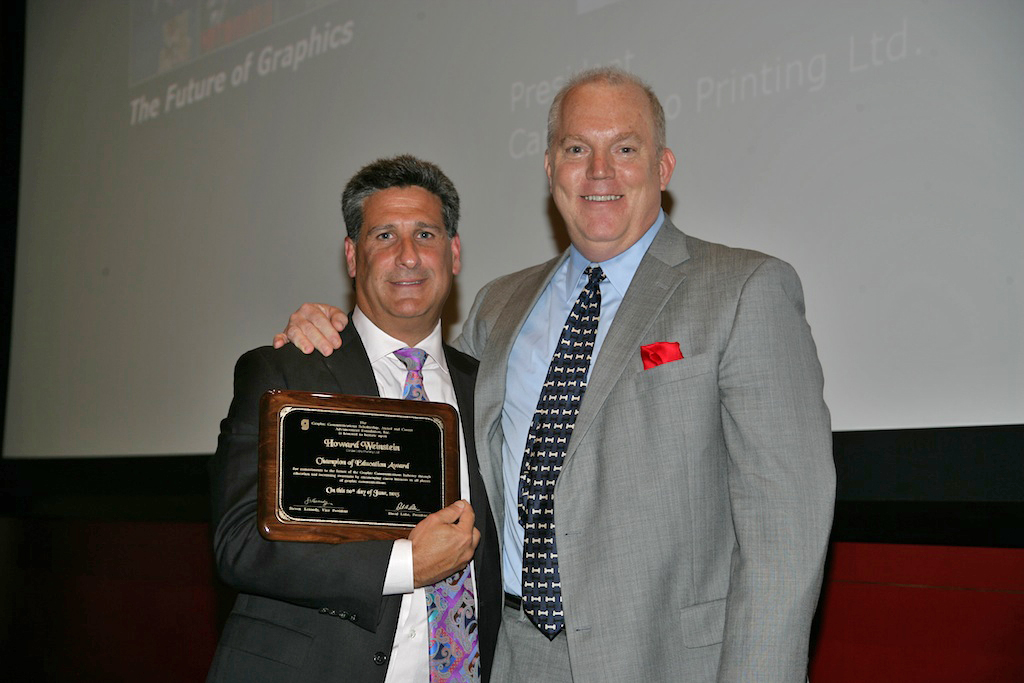 Howard Weinstein (left) accepts the Champion of Education Award from GCSF president David Luke. (photo: GCSF's Thaddeus B. Kubis)

Howard Weinstein, honored with the Champion of Education Award, provides that kind of experience when he hosts visits by student groups to Candid Litho, the large commercial printing firm that he and his family operate in Long Island City. He also is a prodigious fundraiser on behalf of GCSF and other industry causes.
At one point during his acceptance remarks, he brandished a fistful of envelopes containing donation checks and said of the givers, "I don't give these people any choice—they have to support the industry." For this relentless activism, Luke called him "incredibly deserving" of the Champion of Education Award.
Weinstein thanked numerous family members and colleagues for helping him succeed as a printing company president and as a friend of the industry. Among his pieces of advice for students was a warning against becoming complacent or being satisfied with results that are merely good enough.
"Never be comfortable. Always be uncomfortable," he said. "The minute you get comfortable, you're screwed." Weinstein also announced that Candid Litho will host a career day and open house in September in a joint effort with GCSF and the Advertising Production Club of New York. (Watch Metro Graphics Reporter for additional details.)