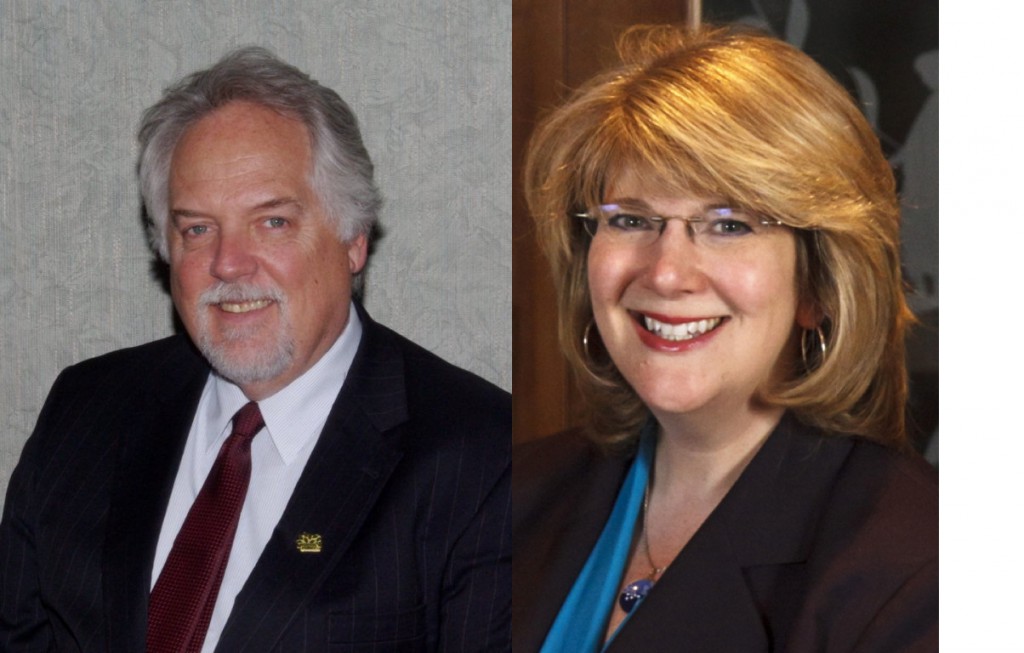 Gamma Chapter of Gamma Epsilon Tau, the national graphic arts honor society, will present Gamma Gold Key Awards to Timothy Freeman and Kathy Sandler at its 2015 Gold Key Awards ceremony in New York City on May 28.
Freeman is President of Printing Industries Alliance, the trade association representing graphic communications and related businesses in New York State, northern New Jersey, and northwestern Pennsylvania. Printing Industries Alliance provides a variety of consultative, informational, educational, representative, and expense reducing business services to companies within its geographical footprint. Printing Industries Alliance is an independent regional affiliate of Printing Industries of America.
A Certified Association Executive (CAE), Freeman joined Printing Industries Alliance in 1984 and was appointed its President in 1988. His responsibilities include working with member companies to resolve individual and industry issues; representing industry interests at all levels of government; managing programs and services; maintaining organizational financial stability; and managing relationships with other industry organizations and educational institutions.
In 2007, Freeman led Printing Industries Alliance's expansion into the metro New York area, which had been unrepresented by a trade association since the demise of a predecessor organization. This initiative resulted in, among other things, the rescue and reinvigoration of the annual Franklin Event, now the Franklin Luminaire Awards program. Held annually, the Franklin Luminaire Awards program is a major source of scholarship funding for students planning careers in graphic communications.
Sandler is recognized as a leader, a visionary, and a technologist in the field of publishing. Involved in publishing technology for 30 years, she currently is Senior Manager, Content Applications and Digital Workflow Development at Penguin Random House. Previously, she helped Scholastic launch the Storia eReader and assisted Meredith in developing digital editions of Parents and Fitness magazines for the iPad and Android platforms. She also was a publishing technologist at Hearst Magazines for 20 years.
Sandler was listed as one of the 40 Most Influential People in Publishing by Folio: magazine. She has been President of Women In Production and has served on the boards or committees of the Association of Graphic Communications, the American Business Press Production/Manufacturing Technology Committee, the IDEAlliance PRISM and DIM-2 Committees, and the Publishers Symposium.
Her roles in education include serving as a Trustee of the Graphic Communications Scholarship Foundation (GCSF) and as a member the Advisory Commission of the Department of Advertising Design and Graphic Arts at New York City College of Technology. The holder of an MBA from New York University, Sandler taught Information Technology Management for Publishing in NYU's Masters in Publishing program. She currently teaches online classes in the Masters in Publishing Program at Pace University, including a class in eBooks that she proposed and developed.
Gamma Epsilon Tau is a national, coeducational, collegiate printing fraternity in which students of printing and publishing can meet and interact in a professional and social atmosphere. It has eight chapters at colleges and universities that offer degree programs in graphic communications.
Gamma Chapter of Gamma Epsilon Tau is located at the Department of Communication Design (COMD) of New York City College of Technology, part of the City University of New York. Previous Gold Key honorees are identified in the table below.
The 2015 Gold Key Awards dinner will be held on Thursday, May 28 at Club 101, 101 Park Avenue, New York City (between 40th and 41st Streets). The event starts at 6:30 pm. For more information or to purchase tickets, contact City Tech's Frank Adae at (718) 260-5833; e-mail: fadae@citytech.cuny.edu. Tickets may also be purchased at the door.
Gold Key Award Recipients, 2000-2014
2000
Prof. James Hanratty
Kin Wah Lam




2001
Patrick Henry
Susan G. Greenwood
Annette Wolf-Bensen




2002
Joseph A. Prestino
Dawn Nye
Jerry McCauley




2003
Frank J. Romano
Michael R. Brice
Jean Bourges

2004
Harvey R. Levenson, Ph.D
Scott C. Cornish




2005
Jack Powers
Michael Esposito




2006
Hans Max
Donald A. Berkowitz




2007
Hoag Levins
Thomas Saggiomo




2008
Lawrence Herbert
Ann Marie Bushell




2009
Diane Romano
Russell K. Hotzler, Ph.D




2010
Michael Cunningham, Ph.D
Florence Jackson




2011
Bob Sacks




2012
Vicki R. Keenan
John D'Onofrio




2013
Mike Connors




2014
Howard Weinstein
Mark Darlow



A list of all recipients since 1956 is available here.