GCSF beneficiaries and benefactors pose as a group at the Hearst Tower on June 18
Higher education is expensive, and as most students discover, finding the money to pay for it can turn into a preoccupation. That's why scholarship funds exist: to take away some of the financial pressure so that the focal point of students' lives can be their academic pursuits, not anxiety about tuition bills.
The Graphic Communication Scholarship, Award and Career Advancement Foundation (GCSF) has been providing this kind of philanthropic relief for 13 years, and on June 18, the group disbursed a record amount of it to metro area students enrolled in or about to enter college-level graphic studies programs. The awards ceremony at the Hearst Tower in Manhattan saw the presentation of more than $100,000 worth of stipends to 31 recipients, the largest distribution that GCSF has made since its founding in 2002.
The money consisted of grants from 20 individual scholarship funds coordinated by GCSF, a 501(c)3 corporation that acts as an umbrella organization for the financial support of graphics education in the metro area. Ten of the scholarships were provided by the Advertising Production Club of New York (APC-NY). The rest were grants from industry groups and clubs or funds named in memory of prominent industry figures.
David Luke (at lectern), who served as president of GCSF from 2012 to 2014, officiates with the help of Jerry Mandelbaum, the foundation's current president
To date, GCSF has presented $526,000 in scholarships to 131 students attaining academic degrees in graphic arts, design, production, and related subjects at some of the nation's most prestigious colleges and universities for these disciplines. Students in undergraduate and graduate programs can apply for grants, and many have received more than one stipend during their time in school.
Unique among printing industry scholarship funds in being established and operated entirely by uncompensated volunteers, GCSF does all of its own fundraising and manages its business affairs without an external support staff. One hundred percent of the money it collects is given to metro area students—there are no deductions for overhead or administrative expenses.
Its selection committee determines eligibility for scholarships by evaluating applicants' SAT scores, grade point averages, portfolios, and other criteria. GCSF also offers a student mentoring program and sponsors fundraising social events like the June 4 "Spring Fling" at Ogilvy & Mather.
Besides saluting recipients, GCSF's annual scholarship awards ceremony celebrates graphic communications as a whole and the aspirations it nurtures. On June 18, student speakers Valerie Buonaiuto and Annie Wong shared their feelings about what being able to enter the field meant to them.
"Graphic arts is my healthy obsession," said Buonaiuto, a Bayside High School graduate who is on her way to Adelphi University. Wong, who said she was the first member of her immediate family to attend college, sees graphic design as a "visual means of solving problems" that she is tackling in her studies at Rochester Institute of Technology.
Keynote speaker Cheryl Kahanec (EarthColor), a leading expert in digital print production, told the students that printing "is no longer just about putting ink on paper—it's about delivering messages" in concert with other graphic media. She said that the scholarship recipients were fortunate to be entering the industry at an exciting time, and she thanked the volunteers of GCSF for helping to make this possible.
"They believe in you students and your futures," Kahanec said.
Keynote speaker Cheryl Kahanec is thanked for her remarks by David Luke, Jerry Mandelbaum, and Mark Darlow
Tributes to absent friends were paid in the form of newly created memorial scholarships in the names of Stephen D. Server and Nina Wintringham. Server was a co-founder of the company that became Applied Graphics Technologies, which at one time was the world's largest provider of publication prepress services. Wintringham is well remembered as a leader of graphics industry organizations and as an organizer of many of their most important activities.
Diane Romano (HudsonYards), GCSF second vice president, characterized Server as a "disciple of continuous improvement" whose innovations in electronic and digital prepress helped to transform magazine production. "He would be so thrilled to know his name is on a scholarship," she said.
Strong emotion could be heard in the voice of Katerina Caterisano (Network Design and Communications Inc.) as she recalled working with Wintringham and others to found Women in Production (now part of the P3 network). She told the students that her friend's advice to them would be, "Live a beautiful life, get educated, and pass your good fortunes along to others."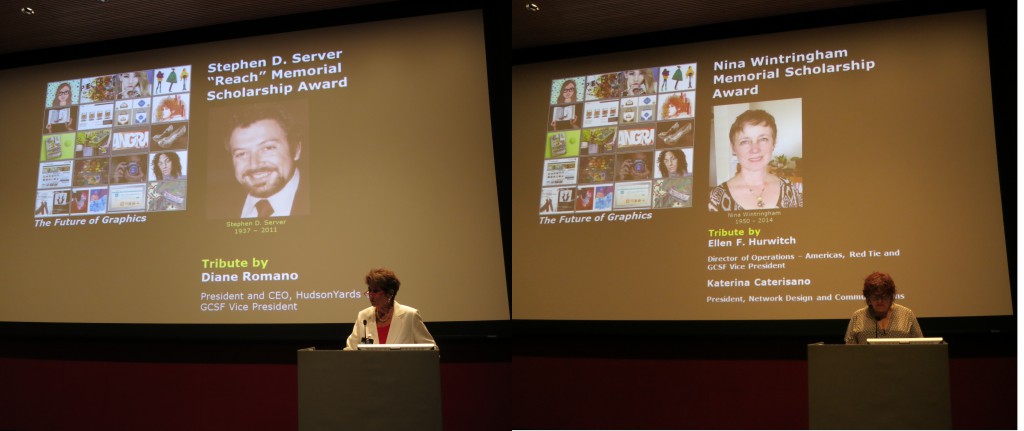 Diane Romano (left) and Katerina Caterisano pay tribute to the memories of industry figures Stephen D. Server and Nina Wintringham
Each year, GCSF bestows its "Champion of Education" award on an industry member who has done exceptional work on behalf of academic study or professional development in graphic communications. Accepting it on June 18 was Patrick Henry, a journalist, an editor, and an educator who is also the creator of this blog. His advice to the students:
"Always be serious about your work.
"Never be content to give less than the best quality you are capable of delivering.
"Respect your deadlines, and stay absolutely focused on making things happen and getting things done."
Do all of these things, Henry said, "and you have my word—you will succeed in this industry."
Patrick Henry accepts GCSF's "Champion of Education" award for 2015
GCSF's current slate of officers includes Jerry Mandelbaum, president; Ellen Hurwitch, first vice president; Diane Romano, second vice president; Steve Kennedy, treasurer; and Nick Patrissi, secretary.
The foundation's trustees are John Aaron, Mark Darlow, William Dirzulaitis, Vincent Forgione, David Garcia, Jack Kott, Richard Krassner, David Luke (also GCSF's immediate past president), Jessie Ann Murphy, Linda Nahum, Jack Powers, Laura Reid, and Howard Weinstein.
GCSF enjoys the support of numerous individual and corporate donors. To become one of them, e-mail Jerry Mandelbaum.