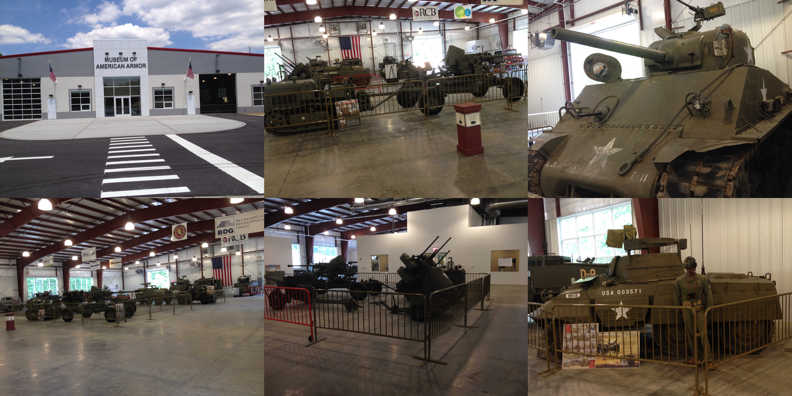 This is a post about heavy iron—but not the printing kind. There's a striking new collection of World War II-vintage armored vehicles at the new Museum of American Armor in Old Bethpage, NY, on the grounds of the equally historic Old Bethpage Village restoration. Naturally, the armor museum will provide many a blissful afternoon for World War II tank and artillery buffs. But, it also has much to offer anyone else interested in learning more about the immense contributions of mechanized weapons systems and the men who operated them to the winning of the Good War.
The museum, which opened to the public two days ago on the 70th anniversary of D-Day, is the gift of Lawrence Kadish, a real estate investor who contributed more than $2 million to the construction of the building and the creation of the exhibits. Some of the work remains in progress under the supervision of museum director and exhibit curator Mark Renton, an expert in the restoration of historic armor. Renton says that eventually, more than 20 of the combat vehicles will be in full running condition for live displays.
Some of the pieces—the Sherman tank, for example, or the "Long Tom" field gun—will be familiar to students of the period. Many other, less well known machines add detail to the panorama of American industrial ingenuity and might that the museum stirringly celebrates. There's also a gallery of war-themed art and, in a space that will be a VIP conference room, a life-sized replica of that icon of American armor, Gen. George S. Patton.
History in the form of war-winning fighting vehicles soon literally will be on the move at the Museum of American Armor. It has all the makings of a national treasure of its kind, and we're indeed fortunate that it has made its home in the NY-metro region.