When Canon U.S.A. Inc. opened its new corporate headquarters in Melville, NY, last year, it invited printers to use the facility's elaborate showroom and demo center as a learning resource. On March 13, the Long Island division of Printing Industries Alliance (PIAlliance) became the first industry group to take Canon up on its offer by bringing more than 40 members to the site for a guided tour.
The 12,000-square-foot showroom is the centerpiece of a 700,000-square foot-building designed to promote Canon's corporate philosophies as well as its technologies and products. Canon executives briefed the visitors on the layout and construction of the building, emphasizing the great lengths to which Canon has gone in order to make it sustainable and environmentally friendly. Product briefings followed, including overviews of some of Canon's most advanced systems for production digital printing.
"Kyosei" is a Japanese word for the idea of living and working harmoniously—a concept that Canon says it strives to honor both as a profit-making business and as a responsible member of the communities where it operates. Environmental responsibility at all stages of the life cycle is paramount, and the headquarters building, the visitors were told, has been engineered to be as environmentally friendly 100 years from now as it is today.
Among the steps taken toward that goal was laying out the building in a way that permits 75% of it to receive natural light—an architectural strategy that cuts consumption of electricity. The structure has no indoor thermostats, relying instead on external sensors that modify the interior climate according to changes in temperature outside. Benches on the property's park-like, 52-acre campus—formerly a pumpkin patch off Route 110—are made of recycled toner cartridges.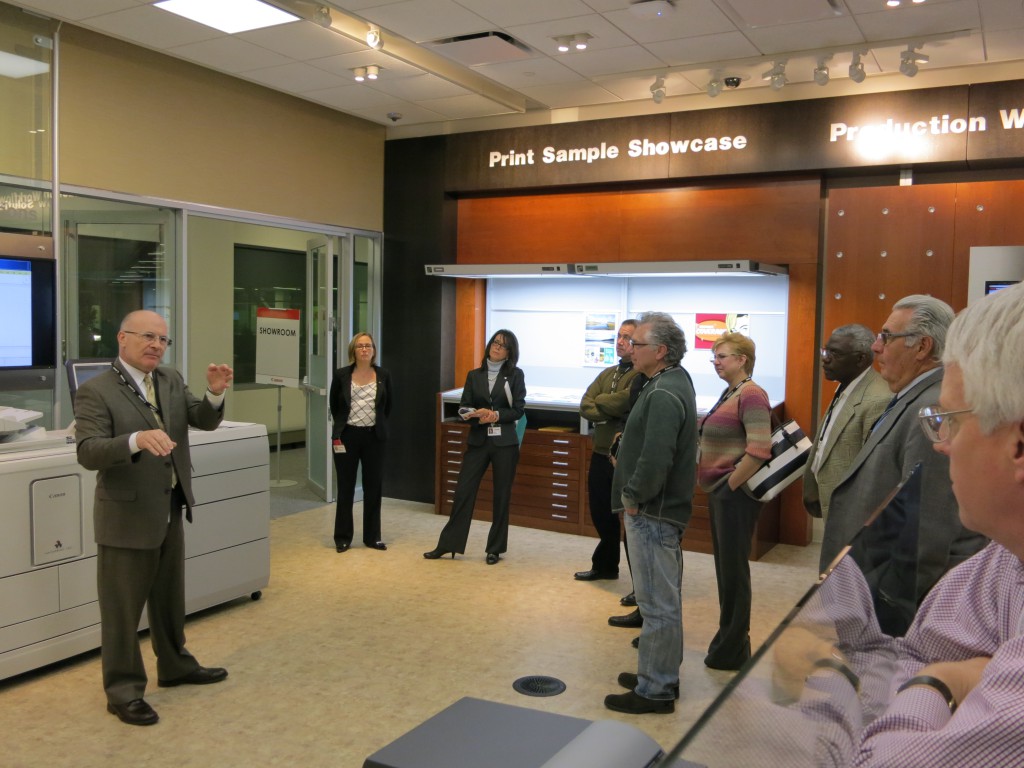 Dennis Amorosano, vice president of the marketing division of Canon's business information and imaging solutions group, gave the visitors a corporate overview of a $35.5 billion supplier of consumer, B2B, and industrial imaging technologies that employs more than 194,000 people worldwide. Amorosano said that Canon invested a sum equal to more than 8% percent of last year's net sales in R&D and received 3,825 U.S. patents, making it the third-largest holder of U.S. patents in 2013.
The company had $2.2 billion in net income last year. 2013 also saw the completion of Canon's integration of Océ, a digital print systems manufacturer it acquired in 2009. Frances Cicogna, commercial print segment manager, said that the Canon-Océ combination represents the industry's broadest portfolio of solutions for cut-sheet and continuous production printing in color and black and white. In 2012, she said, Canon and Océ equipment produced 68 billion digital pages—about 20% of all digital pages output in the U.S.
Although the tour of the showroom focused mostly on production systems and workflow, it also familiarized the PIAlliance visitors with Canon's extensive lines of consumer cameras and personal imaging products. The exhibit space—equal parts library, museum, and machine demo room—features numerous hands-on product stations and interactive displays that trace Canon's history from its founding in the 1930s.
The showroom also houses examples of Canon technologies that are not well known to the general public, such as devices for medical exams and a "mixed reality" imaging system that can inject computer-generated graphics into real-time views of the physical world.
The Canon visit was one of a number of activities scheduled this year by PIAlliance's Long Island chapter, which is chaired by Richard Schielke. Upcoming are a golf outing, a fishing trip, and a town hall-style meeting for members in May.
Printing Industries Alliance is a regional affiliate of Printing Industries of America (PIA), the national trade association for the graphic communications industry. Printing Industries Alliance represents graphics firms in New York State, northern New Jersey and northwestern Pennsylvania.