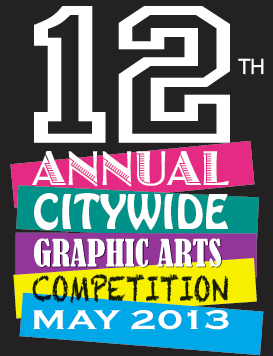 On Friday, May 24, judges will select winners among the finalists in the 12th Annual Citywide Graphic Arts Competition, a contest that showcases the creativity of some of the city's most talented high school students.
Judging by a panel of academics and graphics industry professionals will take place from 9 a.m. to 1 p.m. in the ground-floor Atrium of New York City College of Technology (City Tech), located at 300 Jay Street in downtown Brooklyn. At 2 p.m., first, second, and third prizes will be awarded in the categories of digital photography, web site design, digital video production, desktop publishing and design, filmmaking, and package design.
The competition has been in progress since February, when students began working on projects at their local high schools. Two preliminary rounds of online judging followed, yielding the finalists whose work will be scrutinized at City Tech next week.
First-place winners will receive trophies for their schools and will be invited to tour the main production plant of The New York Times in College Point, Queens. Additional prizes are being provided by Adobe, Apple, B&H Camera, and other supporters.
The event is sponsored by the Graphics Industry Advisory Commission, part of the New York City Department of Education's Advisory Council for Career and Technical Education. The Commission is a volunteer group of executives, academics, vendors, employers, and analysts dedicated to keeping New York's schools up to date with change in the digital graphics industry. They also work to expand career opportunities for students preparing to enter the field.
For more information, contact Florence Jackson, Advisory Council for Career and Technical Education, at 212-374-4224 or by e-mail at jackso2@schools.nyc.gov