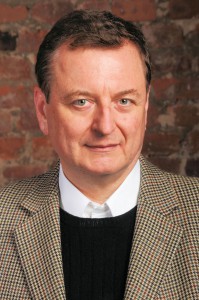 The Graphic Communications Scholarship, Award and Career Advancement Foundation (GCSF) will present its 2014 Champion of Education Award to Jack Powers, technology strategist and longtime public education advocate. Part of GCSF's 12th Annual Scholarship Awards Celebration on Thursday, June 19, the Champion of Education Award honors exceptional individuals in the graphics field who have helped to prepare its next generation.
For over 30 years, Powers has explained each step of the digital revolution for media professionals on six continents. Beginning with electronic composition and pagination, moving on to desktop publishing and evolving through computer graphics, digital imaging, interactive multimedia, and the World Wide Web, Powers has evaluated the big steps in media technology for private clients and public audiences in books, articles, web sites and videos.
He chaired his first national conference in 1985 for the National Composition Association and worked with many associations and commercial conference developers internationally. He was chairman of the breakthrough Internet World conferences in 24 countries during the dot com boom. Along the way, he produced innovative education programs in electronic commerce, ebooks, artificial intelligence, pervasive TV, digital photography and healthcare IT.
Powers is the director of The International Informatics Institute (IN3.ORG), a Brooklyn-based technology education, consulting, and research organization he founded in 1982. The firm's research associates advise clients about issues and opportunities in media, technology, business, and society.
In support of public education, Powers has served on the New York City Department of Education's Graphics Industry Advisory Commission since 1986, leading the volunteer group's teacher training, curriculum review, and mentoring activities and producing the long-running citywide Graphic Arts Competition. At the Commission, he helped to launch the Graphic Communications Scholarship Foundation and has served as a trustee and officer of GCSF for years.
In 2010, Powers was appointed by the New York City Schools Chancellor to the city's Advisory Council for Career & Technical Education, the all-industry coalition of business leaders, employers, trade unions, and community organizations that support more than 140,000 technical education students and their teachers in the New York City school system. Voted chairman of the CTE Advisory Council by his colleagues, he has helped develop innovative career-oriented education programs in many fields beyond graphics.
A longtime supporter of CUNY's New York City College of Technology, Powers serves as the chairman of the Advisory Commission for the Department of Advertising Design and Graphic Arts (ADGA). He also is a member of the advisory councils for Virtual Enterprises International, Thomas Edison High School, and Queens Vocational & Technical High School. He has taught at the Pratt Center for Computer Graphics in Design and at New York University, and he is completing a master's degree in politics and urban education at the City University of New York.
The award to Powers highlights "The Future of Graphics," a special program paying tribute to the latest recipients of GCSF scholarship grants. The event also will feature the inaugural presentation of the John Tempest Scholarship Award in memory of its namesake, a print sales executive with a long record of service to industry trade associations.
GCSF's 12th Annual Scholarship Awards will take place at 5:30 p.m. on Thursday, June 19 in the 3rd-floor Atrium and Joseph Urban Theatre of the Hearst Tower, 300 W. 57th Street in Manhattan. Admission is free, but all attendees must pre-register by e-mailing a request for entry to Jerry Mandelbaum at jmandelbaum@601west.com.
The Graphic Communications Scholarship, Award and Career Advancement Foundation is an all-volunteer, 501(c)3 non-profit organization that provides financial support to New York City metro area students pursuing careers in graphic communications. Since its founding in 2002, GCSF has given financial support to more than 108 students in graphic studies degree programs at leading institutions in the field.