The Advisory Board of the NYU School of Continuing and Professional Studies (NYU-SCPS) Graphic Communications Management and Technology (GCMT) graduate program has selected Charles Townsend, chief executive officer of Condé Nast, as the recipient of the 2014 Prism Award. Presented annually, the Prism Award recognizes distinguished leadership in the graphic communications media industry.
Sponsored by the NYU-SCPS Master of Arts in Graphic Communications Management and Technology program, the 28th Annual Prism Award Luncheon will take place on Tuesday, June 17, 2014 at Cipriani 42 in New York City. Scott Dadich, editor-in-chief of WIRED, will accept the award on Mr. Townsend's behalf and discuss future trends at the nexus of design and technology.
"We are honored and delighted to recognize Charles Townsend, an innovator in the media industry, with the 2014 Prism Award," said Dennis Di Lorenzo, dean of the NYU School of Continuing and Professional Studies. "His leadership qualities and his ability to anticipate and to navigate change in a continuously evolving business environment are an inspiration to us all. We are equally fortunate to have Scott Dadich to serve as our Luncheon chairman and to have him accept the Award on Mr. Townsend's behalf."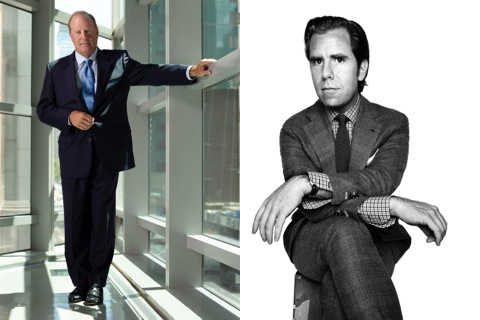 Charles Townsend; Scott Dadich
Previous NYU Prism Award recipients include: Ursula Burns, chairman and CEO of Xerox Corporation; Steve Forbes, chairman and editor-in-chief of Forbes Media LLC; Thomas J. Quinlan III, president and chief executive officer of R.R. Donnelley and Sons Company; Vyomesh (VJ) Joshi, former executive vice president of HP's Imaging and Printing Group; Cathleen Black, former chairman of Hearst Magazines; Antonio M. Perez, former president and CEO of Eastman Kodak Company; Anne M. Mulcahy, former chairperson and CEO of Xerox Corporation; and Janet L. Robinson, former president and chief executive officer of The New York Times.
"It is a source of great pride for Condé Nast to join this esteemed group of former recipients in supporting the NYU School of Continuing and Professional Studies," said Townsend.  "Talent is at the cornerstone of what makes all our organizations successful—I can think of no better investment in our future than growing these scholarship programs."
"WIRED is where tomorrow is realized," added Dadich.  "I'm thrilled to be part of an event where ideas and innovation are fostered and to be accepting this prestigious award on Condé Nast's behalf."
The net proceeds of the Prism Award Luncheon help to fund student scholarships, as well as student and program support for the NYU-SCPS GCMT graduate program, which prepares the next generation of media communications industry leaders. Since its inception, the Prism Award Luncheon has raised millions of dollars in scholarship funds for students in the GCMT program.
"Over the years, hundreds of talented and deserving students have benefitted from Prism Award scholarship funds, graduating from the M.A. in Graphic Communications Management and Technology program and launching their own highly successful careers in an industry that continues to grow and thrive," commented William "Buzz" Apostol, Prism Award Committee co-chair and vice president, sales – Americas at X-Rite/Pantone Inc.
Tickets for the Prism Award Luncheon are priced from $750 per person to $6,000 for a sponsor's table of eight and $10,000 for a co-chairmanship (which includes a dais seat as well as a table of eight). Tables, ticket reservations, and additional information are available through the NYU-SCPS Office of Development. Contact Melissa Malebranche at 212-998-6950, by fax at 212-995-4039, or by e-mail at melissa.malebranche@nyu.edu. Visit www.scps.nyu.edu/prism to learn more about the Prism Award Luncheon and Scholarship.
 About Charles Townsend
Charles H. Townsend is chief executive officer of Condé Nast, the premier media company renowned for producing the world's highest quality content for the world's most influential audiences. Attracting 164 million consumers across its industry-leading print and digital brands, the company's properties include some of the most iconic titles in media: Vogue, Vanity Fair, Glamour, Brides, Self, GQ, The New Yorker, Condé Nast Traveler, Details, Allure, Architectural Digest, Bon Appétit, Epicurious, Wired, W, Lucky, Golf Digest, Golf World, Teen Vogue, and Ars Technica. Condé Nast also owns Fairchild Fashion Media (FFM) and its portfolio of comprehensive fashion journalism brands:  WWD, Style.com, Footwear News, NowManifest, Beauty Inc., M, and Fairchild Summits. The company's newest division, Condé Nast Entertainment, was launched in 2011 to develop film, television, and digital video programming.
During Townsend's 20-year tenure at Condé Nast, the company has reached record profits, tripling its topline growth and exponentially expanding its distribution platforms. In just the past five years, Condé Nast's footprint swelled by more than 100 million consumers and in 2013, the corporation was named one of the fast-growing companies in the digital video business. Earning a record 107 National Magazine Awards in the past 20 years, Condé Nast also led the industry as one of LinkedIn's Top 50 Most In-Demand Employers in the World. In late 2014, the company will relocate to its new global headquarters at 1 World Trade Center, where it will play a leading role in the resurgence of Lower Manhattan.
Before being named CEO in 2004, Townsend served as Condé Nast's chief operating officer after joining the company in 1994 as publisher of Glamour. Earlier in his career, he served as president and CEO of The New York Times' Women's Magazine Publishing Division and as publisher of various Hearst Magazines titles. Townsend is a graduate of the University of Michigan.
About Scott Dadich
Scott Dadich was named editor-in-chief of WIRED in November of 2012.
Prior to being named editor-in-chief, he served as vice president, Editorial Platforms & Design for Condé Nast. In this role, he oversaw the creative efforts to bring Condé Nast's storied brand portfolio to emerging digital channels.
From 2006-2010, Dadich was the award-winning creative director of WIRED, where he initiated and led the development of WIRED's groundbreaking iPad app, which was introduced in May 2010, one month after the introduction of the revolutionary device. Building upon that success, Dadich and his team have led all of the company's brands into monthly tablet publication across multiple digital platforms.
Collectively, Dadich's work has been recognized with eight National Magazine Awards, including three General Excellence Ellies (Texas Monthly, 2003; Wired, 2007 & 2009). He is the only creative director ever to win both the National Magazine Award for Design and the Society of Publication Designers Magazine of the Year award three consecutive years: 2008, 2009, and 2010. Additionally, he has received more than 100 national design and editorial awards from organizations such as the Art Directors Club, American Photography, American Illustration, The Society of Illustrators, and the Type Directors Club. In 2011, Fast Company named Scott Dadich one of the 50 Most Influential Designers in America.
Prior to joining Condé Nast, Scott was creative director of Texas Monthly, which was nominated for 14 National Magazine Awards during his tenure and won for General Excellence in 2003.
Dadich graduated from Texas Tech University with a Bachelor of Fine Arts degree.