Metro Graphics Reporter thanks Dona McKenzie (M.A. in Graphic Communications Management and Technology, 2014) for covering the event and providing the following post.
On June 17, more than 300 graphic communications and media professionals came together to raise funds for New York University's Graphic Communications Management and Technology (GCMT) M.A. program at the 28th Annual Prism Awards Luncheon. In a departure from years past, Cipriani 42 was the newly chosen venue, a space that was both elegant and monumental in scale. The lively crowd mingled and networked at the opening reception as tuxedo-clad waiters passed around a never-ending supply of Bellini cocktails and sumptuous hors d'oeuvres.
After an hour of conversation and connections, the guests were gently ushered into the main dining area for the start of the program. There, William "Buzz" Apostol and Jennifer Bergin, Prism Committee Co-Chairs, welcomed everyone and thanked them for their continuing support of the GCMT M.A. program. The crowd enjoyed a tricolor salad of roasted beets with green beans and goat cheese while Dennis Di Lorenzo, Dean of NYU's School of Continuing and Professional Studies (SCPS), took to the stage. Di Lorenzo praised the GCMT M.A. program for providing students with a "competitive skill set" learned under the guidance of working professionals in the media landscape.
Next, Dr. Joseph P. Truncale, GCMT professor and Advisory Board Co-Chair, gave a warm introduction for alumna Tina Powell, '13, recipient of the Alumni Achievement Award for 2014. Powell, currently the Director of Business Management at Beacon Wealth Management, thanked her professors and former GCMT M.A. program director Bonnie Blake for their inspiration and their encouragement. She singled out faculty member Dr. Greg D'Amico for opening the most "important doors of all." Powell finished by acknowledging the profound support of her family and friends. She graciously thanked her mother, saying, "to my mother, you will know my gratitude by the depth of my service."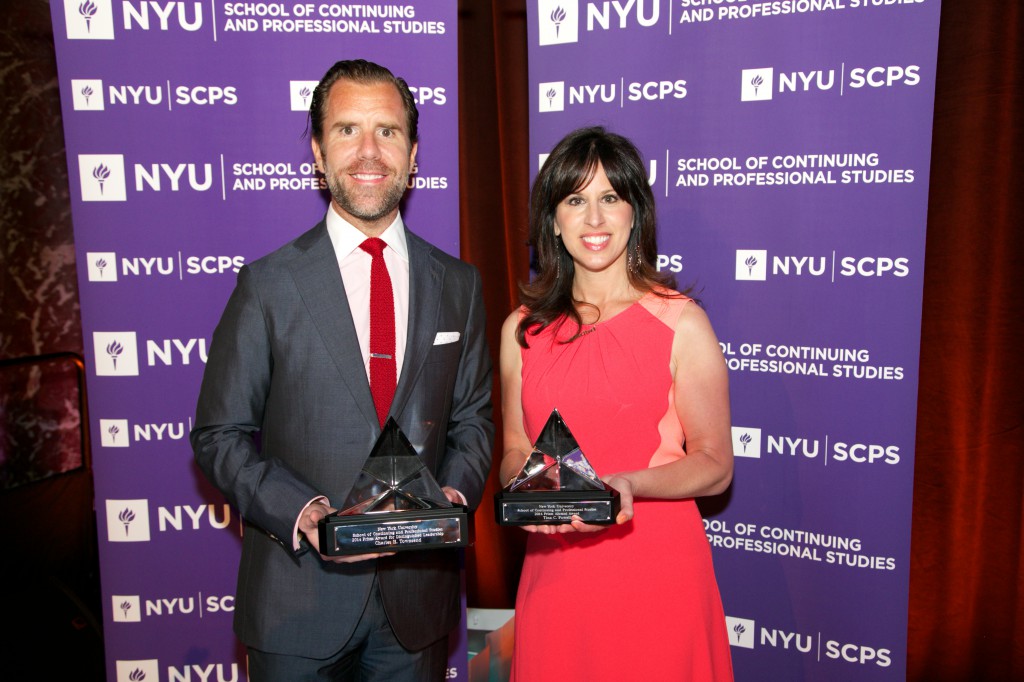 Scott Dadich, Editor-in-Chief of Wired, who accepted the 2014 Prism Award on behalf of recipient Charles H. Townsend, CEO of Condé Nast; and Tina Powell, recipient of the GCMT Alumni Achievement Award for 2014
Following lunch of prime roast filet of beef, risotto, and ratatouille, Paula Payton, Director of Strategic Communication, Marketing and Media Management Programs at NYU-SCPS, introduced Charles H. Townsend, Chief Executive Officer of Condé Nast. As Townsend, the recipient of the 2014 Prism Award for Distinguished Leadership, was unable to attend the event, monitors were placed throughout the venue so that the guests could see and hear his video thank-you. Townsend also expressed his deep appreciation to NYU for cultivating talent.
Accepting the Prism Award on Townsend's behalf was Scott Dadich, Editor-in-Chief of WIRED. In a presentation entitled "The Future of Design, Invisible, Beautiful, Everywhere," Dadich treated the audience to a micro- and macro-level look at the forces propelling contemporary trends in technology. He proposed that the main purpose of design is "human betterment' and posited that "design doesn't make things better, it makes them work." Dadich argued that because of good design, "technology will fade into our everyday experience, instead of pulling us away from it."
He said that the trends to watch are wearable computers, ultra high definition television (UHD TV), the game console wars, biometrics, and "quantified cars" that gather and share driving data. Mr. Dadich went on to say that all of these trends are data-driven, bandwidth intensive and individually focused, creating a potential "Hawthorne Effect" on society.
From left, Prism guests Junmian Sun (GCMT M.A., class of 2009); Bonnie Blake, past director of the GCMT M.A. program; and 2014 GCMT M.A. graduates Michael Patrissi, Melissa Pitts
Presented annually, the Prism Award recognizes distinguished leadership in the graphic communications media industry. The net proceeds of the Prism Award Luncheon help to fund student scholarships as well as student and program support for the NYU-SCPS GCMT graduate program, which prepares the next generation of media communications industry leaders. Since its inception, the Prism Award Luncheon has raised millions of dollars for scholarships for students in the GCMT program.
Previous NYU Prism Award recipients include Steve Forbes, chairman and editor-in-chief of Forbes Media LLC; Thomas J. Quinlan III, president and chief executive officer of RR Donnelley; Vyomesh (VJ) Joshi, former executive vice president, HP's Imaging and Printing Group; Cathleen Black, former chairman of Hearst Magazines; Antonio M. Perez, former president and CEO of Eastman Kodak Company; Anne M. Mulcahy, former chairperson and CEO of Xerox Corporation; Janet L. Robinson, former president and chief executive officer of The New York Times; and Ursula Burns, chairman and CEO of Xerox.