Leave it to polymath Jack Powers to inspire students with a quipu, the string of "talking knots" used by the Incas as a data recording device hundreds of years ago.
Wielding a quipu knotted with the major events of his own life as a metaphor for personal development, Powers accepted the 2014 Champion of Education Award from the Graphic Communications Scholarship Foundation (GCSF) at its 12th annual scholarship awards presentation ceremony on June 19. He directed his quipu lesson mainly at 28 students who shared $56,000 worth of study grants from GCSF, which has presented a total of $416,000 in scholarships to 116 students of graphic design and production since the fund's inception in 2002.
GCSF is a 501(c)3 not-for-profit corporation that has grown from a back-of-the-envelope project into one of the industry's most noteworthy sources of funding for professional education. Its donors include printing companies, technology suppliers, publishers, trade associations, and individuals. Under the supervision of David Luke (DAL Consulting), its current president, GCSF remains an all-volunteer initiative that has no paid staff, no overhead expenses, nor any mission other than channeling 100% of the money it raises to deserving students.
The presentation ceremony, which takes place at the Hearst Tower Atrium in Manhattan, sees the addition of new scholarship grants almost every year the event is held. This year, GCSF trustee Diane Romano (Hudson Yards) introduced the John Tempest Memorial Scholarship Award, co-sponsored by the Advertising Production Club. It becomes one of more than two dozen scholarship programs now administered by GCSF, which establishes criteria for receiving the grants and evaluates student portfolios submitted in application for them. Applicants, who must be New York City metro area residents, can attend any college or university with an accredited graphics program.
Tempest scholarship donors include the DEER Foundation of IDEAlliance and Printing Industries Alliance (PIAlliance), both of which counted the grant's namesake as a board member during his lifetime. The two groups are sponsors of the combined Franklin Luminaire Awards event in the fall, which will donate its net proceeds to fund GCSF scholarships.
Diane Romano (r.) presents the first John Tempest Memorial Scholarship Award to Vanessa Lora (High School of Graphic Communication Arts / Syracuse University)
At the ceremony, GCSF also inaugurated a mentoring program to provide career-focused learning experiences for New York metro area college students pursuing careers in graphic communications. The four-year plan includes one-on-one coaching, workplace assignments, plant tours, participation at trade shows and events, and other activities designed to streamline their entry into the industry.
In all of these ways, GCSF serves high school, college, and graduate students throughout the New York City metro area who are preparing for or are enrolled in some of the country's most prestigious graphic studies programs. GCSF scholarship recipients—many of whom have earned more than one yearly grant—attend or soon will attend The School of Visual Arts, Rochester Institute of Technology, Pratt Institute, Parsons the New School for Design, and Rhode Island School of Design, among others.
First-year grant earner Tasnima Tanzim, a freshman at Pratt, said she spoke gratefully on behalf of all GCSF scholarship recipients who, like her, once feared that they couldn't afford to attend the colleges of their choice. SVA senior Elizabeth Zalewski, a four-time recipient, said that the grants had been vital to her development as a creative and to the shaping of her future career.
The students owe their progress in no small way to the activism of Powers, a booster and a fundraiser for GCSF from the beginning. Powers has been a one-man army for graphics education in the metro region for more than 30 years, lending his time and talents to the area's most important public and private efforts for training in the field.
Tristate industry veterans also know him as an evangelist for digital production workflows long before the terms "evangelist" and "digital production workflows" even existed. Although, as a technologist and a consultant, he has moved on to other areas of interest, Powers continues to be the advocate most strongly identified with changing the metro area's mindset from analog production to the digital solutions its graphic service providers use now.
Powers got an introduction almost as singular as he is in an adaptation of the classic show tune "You're the Top," with personalized lyrics by Frank Romano (RIT) and a zingy rendition by GCSF co-founder Mark Darlow. Romano hailed Powers as, among many other things, "the most brilliant marketing person you have ever met."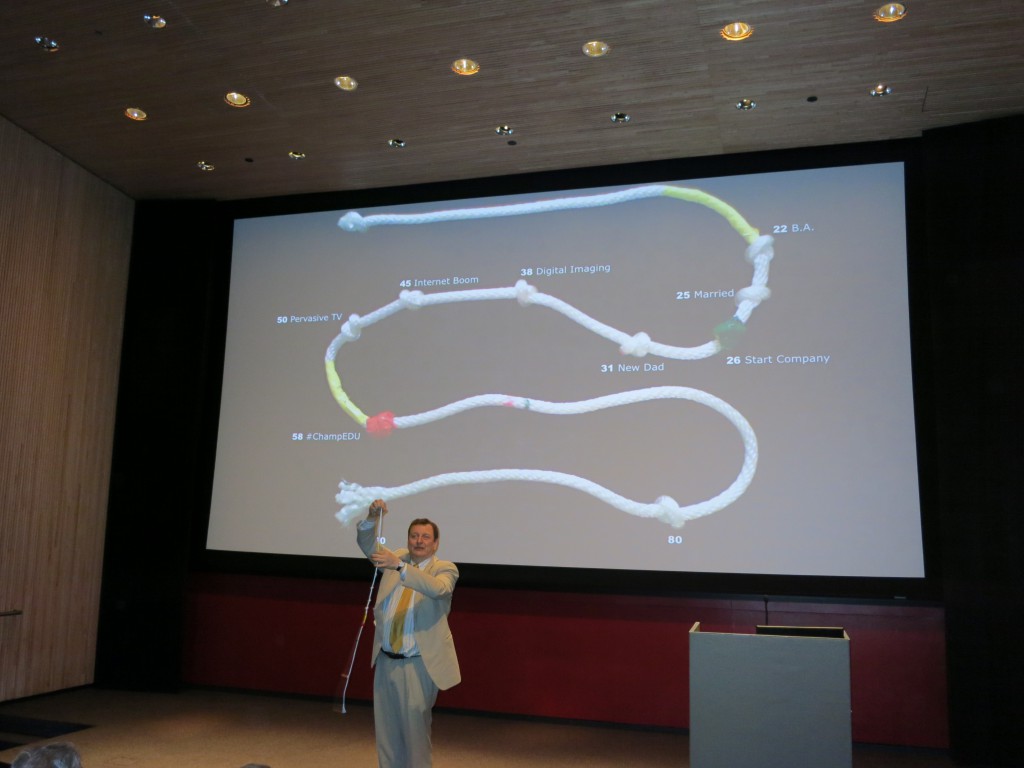 Using his quipu, Powers makes a point about life and the value of education.
He illustrated the trajectory of the honoree's early career by displaying a punched paper tape that he said Powers had coded to drive typesetting equipment in 1978. According to Romano, Powers—the son of a Jersey City, NJ, printer—was the first observer to recognize the enormous significance of the Internet for the printing industry.
Powers's quipu had knots for the launch of his consulting business, his marriage and the birth of his daughter, his recent attainment of a master's degree, and his receipt of the Champion of Education Award. He pointed out that the string still had ample room for further milestones he intends to tie in.
Education largely determines how many knots of achievement a person's lifeline will contain, Powers told the students. He also counseled them to "write stuff down"; to be skeptical of "free" amenities from social media and the cloud; and to "remember the people" who helped on one's way up.
Above all, never forget that everyone's quipu is finite. "You don't know how long your string is going to be," Powers said. "Be sure that your knots have value."