Printing Industries Alliance president Timothy Freeman (second from left) accepts the Gamma Gold Key Award from Gamma Chapter, Gamma Epsilon Tau. The presenters are, from left, William Dirzulaitis (Printing Industries Alliance), Jack Powers (International Informatics Institute), and Prof. Frank Adae (New York City College of Technology)
By late May and early June, classes at most metro area schools are over—but the graphics industry's efforts in support of education are just shifting into high gear. Two recent social events in New York City reaffirmed that the industry's commitment to students of graphic communications is as strong as ever and that members of the industry enjoy showing their support in one another's good company.
One event has long been a fixture on the industry's convivial calendar, and the other is new. On May 28, as it has in nearly every year since 1956, the Gamma Chapter of the Gamma Epsilon Tau graphic arts honor society inducted new student members and presented Gamma Gold Key Awards to industry figures whose careers exemplify the values of education.
June 4 brought several hundred revelers to the New York headquarters of Ogilvy & Mather for a "Spring Fling" on behalf of the Graphic Communications Scholarship, Award and Career Advancement Foundation (GCSF), a group with a track record as imposing as its name in raising money for metro area graphics students preparing for careers in the field. This party, being held for the first time, heralded the upcoming GCSF event on June 18 at which students either attending or bound for colleges with graphic studies programs will receive their stipends for 2015.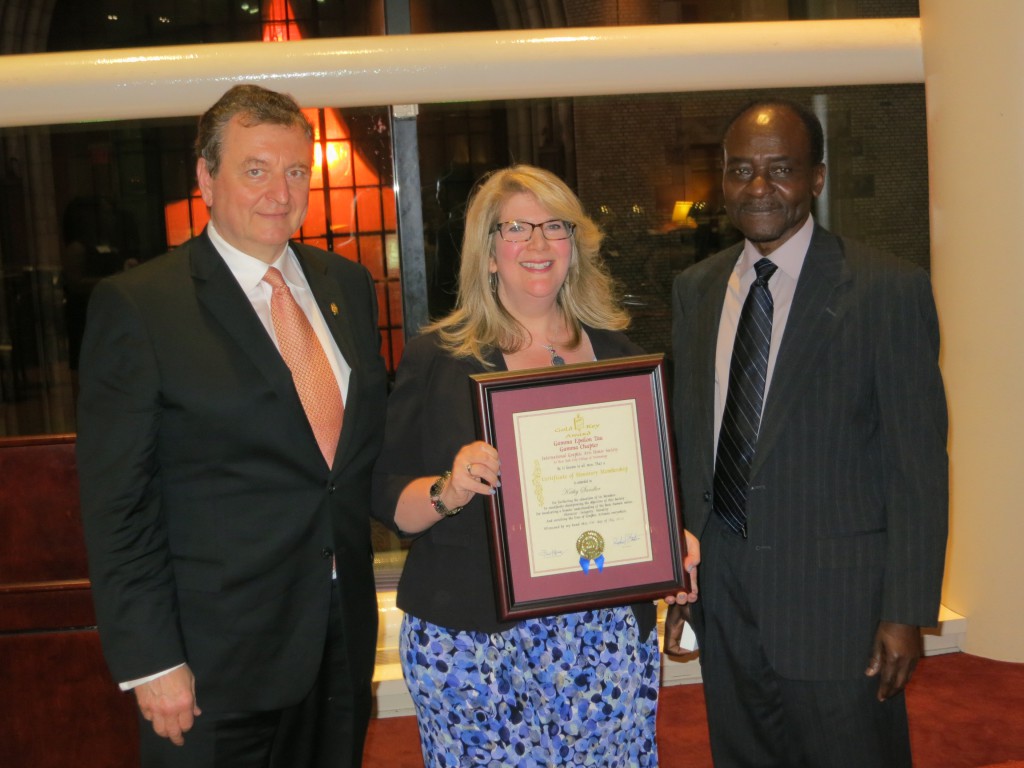 Kathy Sandler, senior manager, content applications and digital workflow development at Penguin Random House, is honored with a Gamma Gold Key Award
The highlight of the May 28 gathering at the 101 Club in midtown Manhattan was the addition of Timothy Freeman and Kathy Sandler to the long and distinguished list of Gamma Gold Key Award recipients.
Freeman, a professional trade association executive, has been connected with the printing industry since 1984. He is the person primarily responsible for preserving and strengthening Printing Industries Alliance, the membership organization that unites printing companies and related businesses in New York State, northern New Jersey, and northwestern Pennsylvania.
Sandler's 30-year career in magazine and book production technology epitomizes many of the most important advancements in those fields. She has held senior management positions at top publishing houses and has been a leader of most of the publishing industry's principal trade groups for production professionals.
After the award presentations to Freeman and Sandler, a candlelight induction ceremony brought three more students into Gamma Chapter's august ranks. This honor society aims to instill values that drive professional success and inspire a career-long commitment to supporting and serving the graphic arts industry.
First photo: Steve Caputo (left) received an award for his four decades of service as an instructor and a technician of graphic arts at New York City College of Technology. MaryAnn Biehl, chair of the school's Department of Communication Design, joined in paying tribute. Second photo: the lighting of candles stands for the illuminating power of the graphic arts in the ceremony inducting City Tech students into Gamma Chapter, Gamma Epsilon Tau
Besides saluting students and industry leaders, the Gamma Gold Key Awards program also spotlights the role of New York City College of Technology (City Tech) as a leading center of graphics education for the metro region. Gamma Epsilon Tau's Chapter's Gamma Chapter is located there as an activity within the Department of Communication Design (COMD), an undergraduate program that has been training people for careers in graphics for more than 60 years.
The department, formerly focused on advertising design and traditional graphic arts manufacturing, has broadened its academic scope to include curricula in new and emerging forms of visual communications. It now offers associate and bachelor's degree programs that enable students to specialize in advertising, graphic, web, and broadcast design or gaming, animation, and illustration.
Chaired by MaryAnn Biehl, who gave an update during the Gamma Gold Key Awards program, the department currently enrolls about 1,000 students from throughout the metro area. It recently completed a two-year self-study exercise that will lead to an important academic accreditation from the National Association of Schools of Art and Design (NASAD). A new curriculum in communication design management is to be launched in the fall semester. At a later date, the department will relocate to an expanded media center being developed in refurbished space at City Tech's downtown Brooklyn campus.
Students from City Tech have always been among the recipients of GCSF scholarships, as have students from other, equally prestigious colleges and universities offering undergraduate and graduate programs in graphic communications. The foundation has presented $526,000 to 131 students since it began collecting money in 2002, and on June 18, the value of the stipends will be the richest yet: $110,000 for 31 students who will assemble with their families at the Hearst Tower to become the latest beneficiaries of one of the most exceptional fundraising efforts anywhere in the industry.
Scenes from the "Chocolate Factory" at 636 11th Avenue in Manhattan, a locale better known as the New York headquarters of Ogilvy & Mather and most recently the site of GCSF's "Spring Fling"
The June 4 "Spring Fling" at Ogilvy's space on the far West Side wasn't entirely without precedent—GCSF held a "holiday bash" along similar fundraising lines at The Art Directors Club last December. Like that festivity, the "Spring Fling" was all about raising awareness of the need for more donations, more involvement, and more activism on behalf of industry education. The foundation, a 501(c)3 corporation that operates entirely through the work of volunteers, has become a focal point for education in the metro region and is actively supported by other industry groups that share its aims.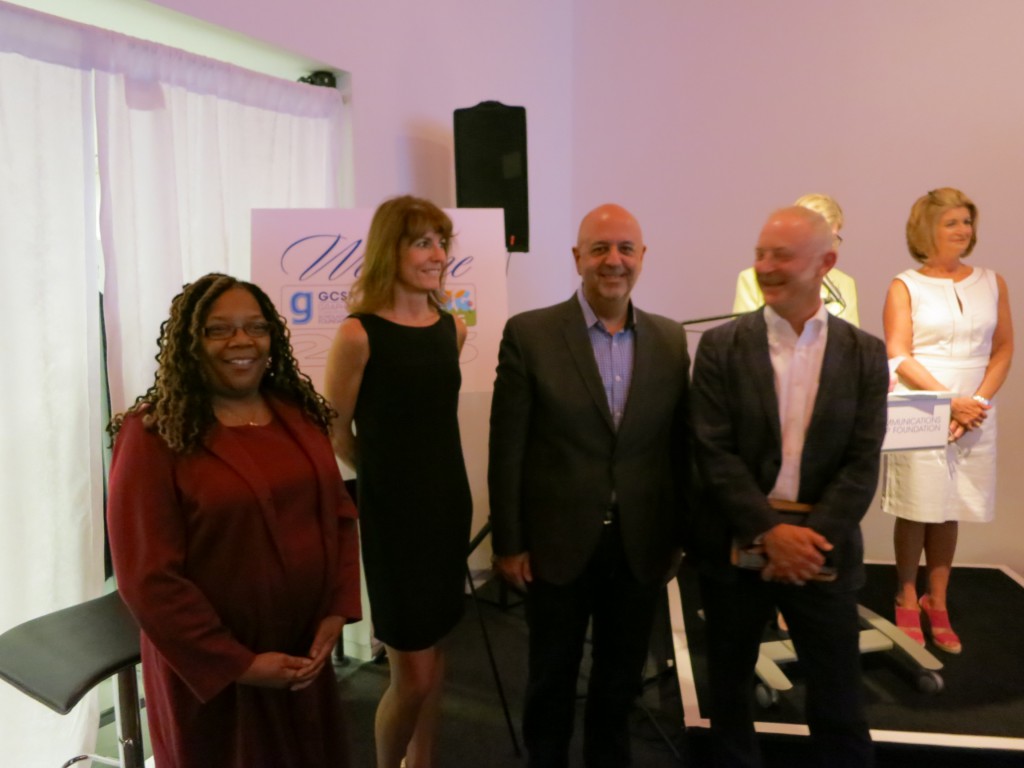 Recognized at the "Spring Fling" were four who will be honored at the Franklin Luminaire Awards event on October 1: Veronica H. Simmons (MRM/McCann), Meghan Fitzgerald Milkowski (Prometheus Global Media), Charles Blanchard, Jr. (Blanchard Systems Inc.), and Michael J. Simon (Publishers Press Inc.)
For example, 10 of the grants to be presented on June 18 are funded through a sponsorship donation from the Advertising Production Club of New York (APC-NY). At the "Spring Fling," GSCF booster Diane Romano announced that proceeds from the October 1 Franklin Luminaire Awards event (a joint production of Printing Industries Alliance and IDEAlliance) would be donated to the scholarship fund.
GCSF also has a growing list of corporate supporters that contribute cash, gifts for scholarship recipients, mentoring assistance, and other kinds of help. On June 4, representatives of these companies mingled with a cross-section of publishers, advertising and media professionals, creatives, print service providers, and industry technologists for what was both a sophisticated cocktail party and a pride-inducing show of the industry's determination to take good care of its youngest, best, and brightest in the metro area.
The sign says it all about the breadth of industry support for GCSF and the students it serves in the metro area