On May 30, Howard Weinstein (left) and Mark Darlow became the 2014 recipients of Gamma Gold Key Awards from Gamma Chapter, Gamma Epsilon Tau. A metro area tradition since 1956, the Gamma Gold Key Awards salute those who have made exceptional professional and personal contributions to the graphic arts industry.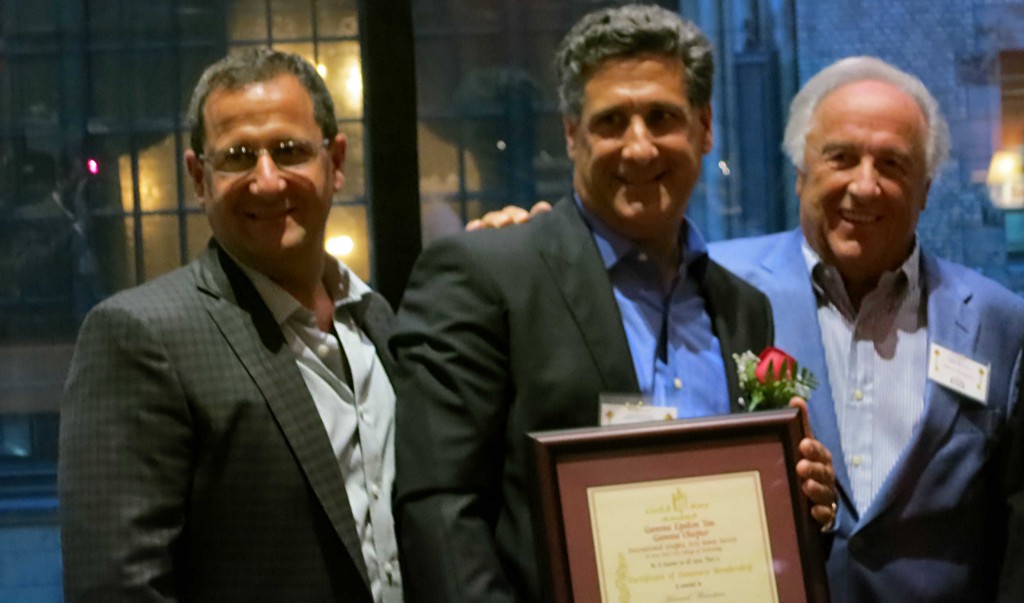 Howard Weinstein is congratulated by his brother, Scott (left), and his father, Murray, at the awards ceremony at the 101 Club in midtown Manhattan. The three are the founders and principals of Candid Litho, one of the metro area's leading commercial printing firms. Howard's advice to the students in attendance: "Know a little bit about lot of things. Be able to listen first, and then speak. Learn from the work ethic—nothing will come easy."
Members of the Darlow family share the auspicious occasion with Mark Darlow, recognized as a technical pioneer during the days of the industry's transition to modern digital production methods. To his right in the photo are Prof. Frank Adae, Department of Advertising Design and Graphic Design (ADGA), New York City College of Technology (NYCCT), the award dinner's organizer and emcee; and Annette Wolf Bensen, honored during the program for her many years of service as an ADGA instructor. Bensen was the recipient of a Founders Gold Medal & Citation Award fron Gamma Chapter in 2011.
As part of the induction ceremony for Gamma Chapter, Gamma Epsilon Tau, ADGA students light candles to signify the light of reason cast with the aid graphic communications down through the centuries. Domiciled at NYCCT, Gamma Chapter is part of a national fraternity for students of graphic production and design. ADGA is the largest academic organization in the metro area for graphic studies.