What's the best way to raise $10,000 in a few hours for a worthy cause? Throw a party. But the cause needs to be the Graphic Communications Scholarship Foundation (GCSF), and the party needs to have been the well-attended affair that the foundation hosted at the Manhattan headquarters of the Art Directors Club on December 10.
The money collected from admissions and sponsorships, 100% of which goes to fund scholarships, was on top of the $100,000+ in grants that GCSF presented to 31 students at its annual award ceremony earlier this year. The foundation, an all-volunteer 501(c)3 corporation, has been doing this kind of good work on behalf students of graphic communications in the metro area for 13 years.
Along the way, its mission created a focal point for educational giving by other graphics industry groups and clubs throughout the area. Their donations help to fund the various scholarships that GCSF administers and presents, and their members show their support personally by turning out in force for the GCSF "spring fling" and "holiday bash" events that have become highlights of the industry's social calendar.
GCSF's principal partners are IDEAlliance, the Advertising Production Club of New York (APC-NYC), the Art Directors Club, The Navigators, and Printing Industries Alliance (PIA). On December 10, nearly 200 of their members gathered in space donated by the Art Directors Club for a celebration of the year's accomplishments. Also on hand were those who helped GCSF make the bash possible: individual sponsors and representatives of companies that  furnished sponsorship contributions and raffle prizes (see lists below).
But, the evening's real celebrities were the 12 students who came as GCSF's special guests. They are among the 131 students to whom GCSF has made $526,000 in scholarship grants since its founding in 2002. Like their predecessors, they are graduates of graphic studies programs at metro area high schools who are pursuing academic degrees at leading colleges and universities where the discipline is taught. They earned their stipends by submitting academic records and creative portfolios for evaluation by GCSF.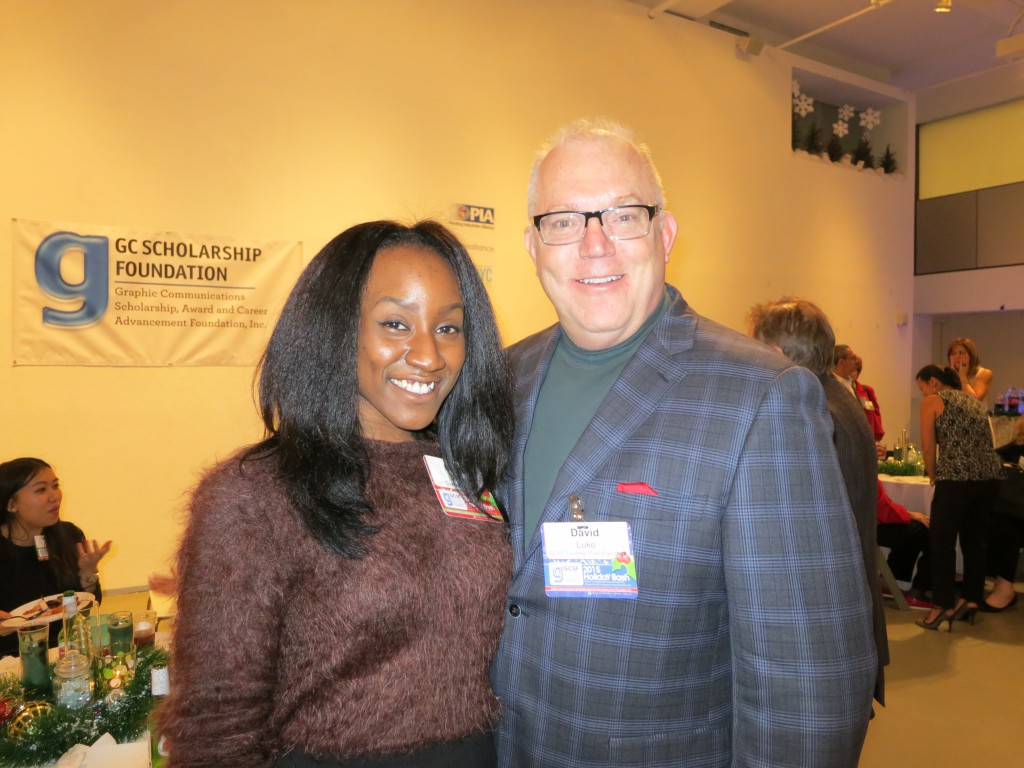 Natalie Alcide, a recipient of multiple GCSF scholarship grants, with David Luke, a past president of the foundation
One of them was Natalie Alcide, who delivered a short keynote thanking GCSF and its supporters. Now a junior at New York City College of Technology (City Tech), she is in her fifth year of receiving scholarship grants from the foundation. If she enters a graduate-level graphic studies program, she can go on receiving them for a total of eight years.
Alcide's career ambition is to win an art director's spot at an advertising agency. She said that as helpful toward that goal as the scholarship funding has been the experience of learning from industry professionals through internship and mentoring opportunities provided by GCSF.
Watch this blog for further news of GCSF activities, including its 2016 scholarship awards ceremony when the details of the event are announced. In the meantime, please consider spreading holiday cheer and helping graphics education by purchasing holiday cards and posters created by student recipients of GCSF scholarships.
GCSF officers, trustees, and scholarship recipients, back row, from left: John Aaron, David Luke, Jerry Mandelbaum, Diane Romano, Natalie Alcide (recipient), David Garcia, Mark Darlow. Front row: Jack Kott, Ellen Hurwitch, Richard Krasner, Jessie Ann Murphy (trustee and recipient), Nick Patrissi, Valerie Buonaiuto (recipient).
The GCSF holiday bash sponsors included Blanchard Systems; Buy-Rite Robbinsville; Candid Litho/ Candid Worldwide; Canon; DALIM Software; Thomas Saggiomo, dg3; Hearst Magazines; HudsonYards; Konica Minolta Business Solutions; LB Graph-X & Printing; Mark Darlow, Graphic Art Supply; Robert S. Rosenbaum; RR Donnelley; Unimac Graphics; Valerie Merone, Victoria's Secret; and Xerox.
The raffle gift donors were Canon; Pantone; Adobe; DALIM, Bricco Ristorante Italiano, Christine Aaron, Showtime, RedTie, LB Graph-X, and Highroad Press.