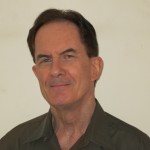 The Graphic Communications Scholarship, Award and Career Advancement Foundation (GCSF) will present its 2015 Champion of Education Award to Patrick Henry, a longtime journalist and educator in the field. Part of GCSF's 13th Annual Scholarship Awards Celebration on Thursday, June 18, in New York City, the Champion of Education Award honors exceptional individuals who have helped to prepare the industry's next generation of talent and leadership.
Henry began covering the graphic communications industry during the desktop publishing revolution in 1984, when he became managing editor of Printing News. Since then, as an editor of or a contributor to most of the industry's leading trade media, he has published many hundreds of articles on business trends and technological developments in graphic communications. He is a co-author of a textbook, The Magazine Publishing Industry. He also wrote the chapter on book manufacturing for Volume 5 of A History of the Book in America.
An adjunct lecturer in graphic communications for master's degree programs at New York University since 1987, Henry also has taught undergraduates at New York City College of Technology. He is the recipient of numerous honors for industry service and education, including the Florence B. and Leo H. Joachim Award; the Gamma Epsilon Tau Gold Key Award; and the Tom McMillan Award for Journalistic Excellence.
Henry currently is an editorial manager for WhatTheyThink. He also operates Metro Graphics Reporter, a news resource for the graphics industry in the NY-NJ-CT metropolitan region.
The award to Henry will be among the highlights of "The Future of Graphics," a special program paying tribute to the latest recipients of GCSF scholarship grants. The keynote address will be delivered by Cheryl Kahanec (Earthcolor), a leading authority on digital print production. The event also will feature the inaugural presentations of scholarships in memory of industry figures Steve Server and Nina Wintringham.
GCSF's 13th Annual Scholarship Awards will take place at 5:30 p.m. on Thursday, June 19 in the 3rd-floor Atrium and Joseph Urban Theatre of the Hearst Tower, 300 W. 57th Street in Manhattan. Admission is free, but all attendees must pre-register by e-mailing a request for entry to Jerry Mandelbaum at jmandelbaum@601west.com.
The Graphic Communications Scholarship, Award and Career Advancement Foundation is an all-volunteer, 501(c)3 non-profit organization that provides financial support to New York City metro area students pursuing careers in graphic communications. Since its founding in 2002, GCSF has given more than $500,000 in stipends to 131 students in graphic studies degree programs at leading institutions in the field.
This year, 31 students will receive scholarship awards totaling $110,000, a significant increase in GCSF's annual awards amount. Of the 31, 10 are being funded through a sponsorship donation from the Advertising Production Club of New York (APC-NY).